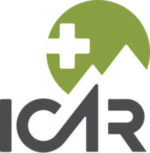 IKAR-CISA Is Coming to the USA this October!
The 66-year-old International Commission (or Kommission) on Alpine Rescue is holding its annual congress in the United States for the first time. This October the congress will be held in South Lake Tahoe, California. IKAR is a worldwide platform for the exchange of mountain rescue know-how. Each country sends a delegate for each of the four commissions: terrestrial rescue, air rescue, avalanche rescue and alpine medicine. The member organizations share new techniques, experiences and problems in mountain rescue.
For several years now, the Mountain Rescue Association (MRA) has taken the lead in coordinating the US delegation. MRA's IKAR committee, chaired by by John Chang of BAMRU, selects the US delegates and helps provide financial support. Reports from the delegates to the four commissions can be found on the MRA website. Visit http://www.mra.org/training-education/ikar-reports.
The 2014 Congress runs October 5 through 10. The event includes a field day of practical demonstrations, and several days of meetings. A limited number of seats are available for the general rescue public. To learn more and to register for the 2014 Congress visit http://www.mra.org/training-education/ikar-2014.
For more information about IKAR, visit their website at ikar-cisa.org.