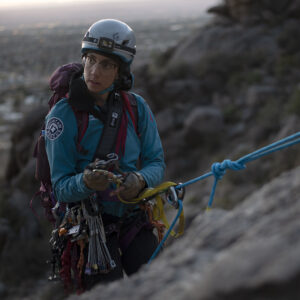 Cofounder of Women In Rescue
Cassy has been a lover of the mountains and outdoors from a young age. In college, she studied Conservation Biology and spent her time chasing reptiles and amphibians in isolated areas of New Mexico. Being in remote settings of the New Mexico Wilderness, prompted her to take a Wilderness First Responder class. This was her first exposure to Rescue. With a background as a traditional climber, skills and knowledge of the outdoors, and now her baseline medical skills she applied to Albuquerque Mountain Rescue.
Cassy has been a member of Albuquerque Mountain Rescue since 2014, and in her tenure has served as the Public Relations and Fundraising Chair and as the Member at Large on the Board of Directors. Outside of administration leadership, she has become one of the few women in the history of her team to obtain technical certifications in technical rescue, avalanche and winter rescue, and search theory.
Follow Cassy on Instagram