Notes from the Field: Fred's Packed RigTech
Fred Salazar, Senior CMC School Instructor, offers a few tips for packing and preparing gear for efficient deployment on rescue missions. He discusses the organizational features of the RigTech Pack and how it supports team efficiency. Below is his account.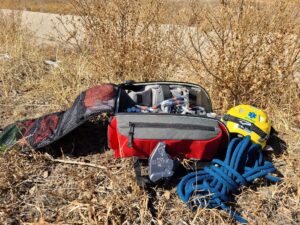 The bag in the picture is our Main Pack. We are demonstrating the CMC™RigTech Pack™ and switched out gear from a much larger pack, that was becoming aged and outdated.
The RigTech was packed in a way that flows with the setup of our systems. The blue rope you see bundled is our primary anchor rope (what we use to establish our anchors). The carabiners are chained together and then one of them is connected to the webbing loops inside the pack. This allows for unhooking a single carabiner and being able to hand off several to whomever is setting up the system. The CLUTCH is now our primary DCD/Progress Capture Device, so that sits near the top of the pack. Pulleys and Anchor Plates are stored in the interior pouches on the inside of the pack. You can see we have extra webbing and prusiks in the mesh pockets. On the exterior pockets, we have some edge pro on one side and our Radium Release and Brake Bar Rack on the opposite (this allows us to run two systems if necessary).
We use a red RigTech pack for our Main Line set-up and the blue RigTech Pack for our Belay Setup. We haven't completely transitioned to a TTRS setup yet, so we still run a dedicated belay system. Because the Belay pack doesn't carry as much hardware, we are able to have the belay rope stored inside the RigTech Pack.
The crews that have used it have told me it wears better than our previous pack system. We aren't using these packs for multi-mile carry ins, usually we are going no further than 3/4 of a mile from the big red fire truck, so they wear/ride very well for the missions we have. They store nicely in the compartment space allotted on the Truck Company that is currently carrying it.
The crew I was working with last evening used the pack for a body recovery that had to be carried out via litter and wheel. When they returned, they told me the pack was comfortable to wear on the hike in and out, wasn't too cumbersome, and had enough storage but not so much that equipment got lost in the pack.
The pictures shown were taken just after we put the pack together. We laid it out to see how the equipment would be deployed based on how we had it loaded.
Here are additional details on how the RigTech was packed in this scenario:
Main Compartment
10 G rated carabiners
10 T rated carabiner
3 ProSwivel Pulleys
2 Anchor plates
35′ section of 11mm rope
1 Helmet
1 Harness
Mesh pockets
4 short prusiks
4 long prusiks
2 12′ tubular webbing
2 20′ tubular webbing
Right side pocket
2 11mm Clutch Units
Left side pocket
Various webbing loops
20m 8mm cordage
Top flap pocket
1 headlamp
2 pr gloves
Field guides
1 whistle
Glow sticks
Your build out will depend on your mission, area of service and needs.