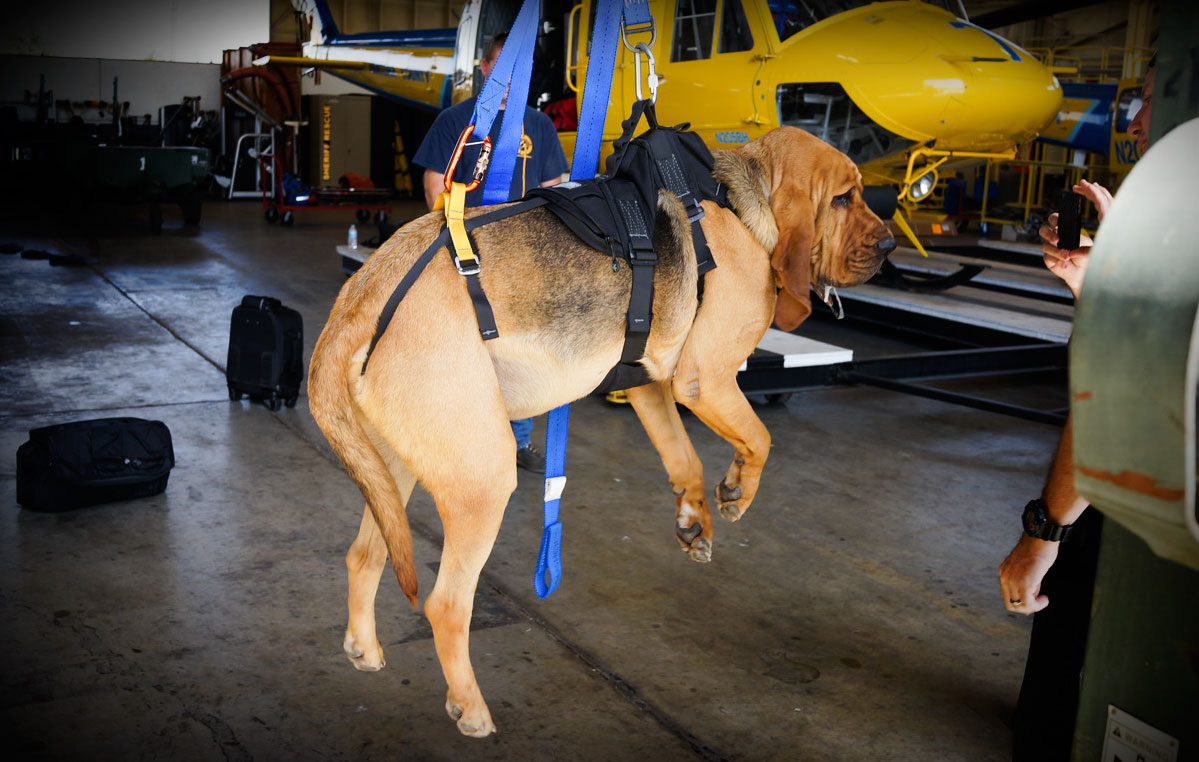 Introducing the new ProSeries® K9 Rappel Harness

Photo courtesy of VCSARK9. One of the team's canine members gets a lift during training with the harness.
Search and rescue missions often occur in the most hazardous wilderness environments. Under such conditions, when time is of the essence, it's critical that SAR teams efficiently track movement and cover as much ground as possible. Enter the K9 unit.
Greater agility and heightened senses make canines superior trackers, able to navigate a variety of terrain, and pick up scent trails undetectable to any human. The canines of Ventura County Sheriff's K9 Search and Rescue (VCSARK9 – Ventura, California) are no exception. These highly-skilled work dogs and their professional handlers have extensive training in rescue and recovery operations, from wilderness and disaster response tracking to technical rescue missions.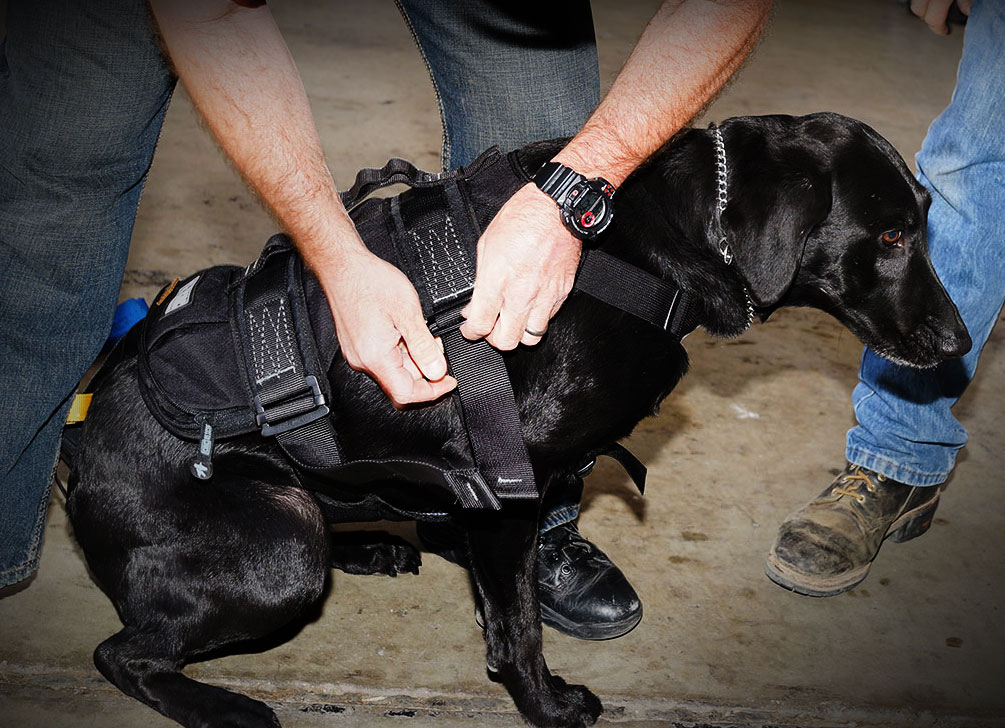 Photo courtesy of VCSARK9. Both canine and handler train with the ProSeries K9 Harness
Ensuring the safety of both dogs and crew is priority number one for VCSARK9's all-volunteer unit, and K9 Sergeant Mike Grossman shared with CMC Rescue recently how incorporating the ProSeries K9 Rappel Harness into their equipment cache has helped them achieve a higher level of effectiveness.
"With the leg straps in place, and the harness secured properly around the canine, the ProSeries K9 Rappel Harness is an amazing platform. It balances the canine perfectly and provides plenty of support. The harness has multiple attachment points giving the handler options on where to hold the dog, or for fastening rescue equipment. Loading and unloading the dogs with the harness is much easier, and it gives the aircrew options on how to extract the dogs. They can do hover loads or choose to complete a hoist."
In June 2014, an off-duty Arcadia, California firefighter went missing while camping and ultimately perished after chasing after his dog in the Sespe Wilderness of the Los Padres National Forest. The VCSARK9 Unit was called in to assist on this recovery mission. According to Grossman, given the heat and steep terrain, the teams had to be flown in and out by helicopter. Cadaver dogs Jake and Ivan, along with their handlers, were hover-loaded using the harnesses. Getting the dogs in and out of the helicopter was a two or three person task, and without the harness and proper load bearing of the canine, the job would have been difficult and dangerous for the crew.
"Since the search," Grossman says, "we've outfitted every canine on the team with this harness.  It has become part of our standard equipment and all team vehicles carry at least one extra harness. We've also have incorporated canine extraction with the harness into our training."
To learn more about the ProSeries K9 Rappel Harness, click here.