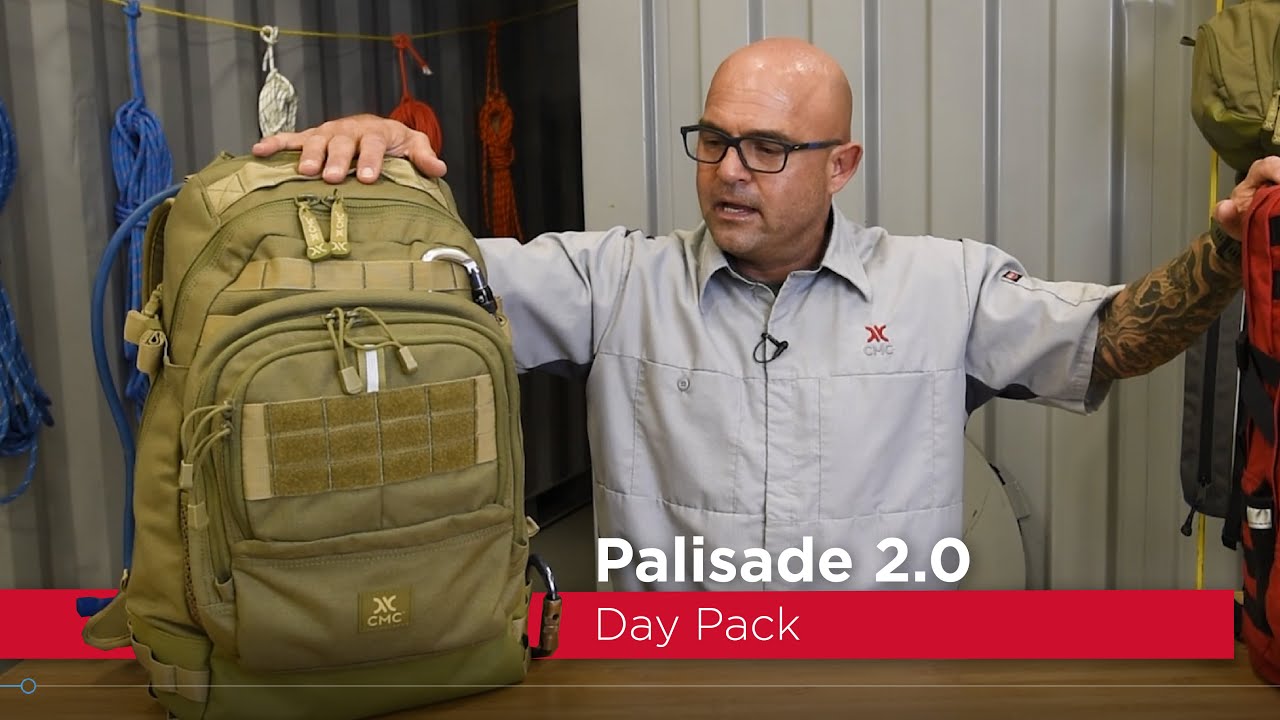 Palisade 2.0 Day Pack
In this video, Fred Salazar, CMC Instructor, introduces the Palisade 2.0 and demonstrates its key features. The Palisade 2.0 is a SAR-ready day pack that has improved storage capacity, organizational pockets, fabric durability, and suspension comfort. Designed for rescuers by rescuers, this pack helps rescuers move fast and stay organized on quick-response missions. Created to be versatile, the Palisade 2.0 is also a great choice for daily commutes and international travel.
**Full Transcript Below**
Hi I'm Fred, an instructor with CMC. I'm here today to introduce you to the Palisade 2.0, the newest version of our Palisade pack. We've made some great improvements in this.
First of all this is a 30 L pack, this is the little brother to our Whitney pack, which is the bigger pack. This is perfectly sized for a day pack or a 24hr mission, giving you a lot of storage options. A couple of things that we did right off the bat that you can see is we improved the harness structure of this backpack so it wears better, a lot more padding. We added a hydration sleeve in the back of the pack that'll fit a 2L hydration bladder that we didn't have before. We added a tarpaulin bottom, the older Palisade pack didn't have that. This allows you to set your gear in the mud, the water, stuff like that, and not have to worry about saturating everything.
Great improvement on the pack. You can see there's a lot of MOLLE attachments that we had on the previous pack, we just re-positioned these on the Palisade 2.0. This also has integrated stowable waist straps that you can tuck into the back. You may not always want to use waist straps as you're using this as a daypack but you may want to use them as you hike. So you can pull them out if you need them, if not, they just stick and tuck back into the backpack out of the way.
OK let's get into some of the features of the Palisade 2.0. We're going to start from the very front and work our way into the main pack. The front of the pack actually has some MOLLE attachment points with some velcro so you can add your morale patches or name tapes as you need, or you can put MOLLE attachments on here for additional storage. As you open up the very first pouch, it's not quite an administrative pouch but it's big enough to hold things that you may need to get to immediately: a pair of gloves, a bandana, a headwipe, something like that.
Then you get into the administrative pouch: big enough to hold rescue guides, write in rain notes, a variety of different pens. There's also a secure pouch in back where you can put car keys or something that you don't want to have to dig around for. There's a small pouch on the front that opens up where you can keep a variety of nutrition bars or other things that you may want to have access to that you don't want floating around.
In between the front two pouches and the main pouch is what we call a shove slot where you can carry webbing, you can put your helmet back there. If you have raingear, you can place raingear back there so that you can easily get to it without having to open up your entire pack.
To give you an idea of the inside of the Palisade 2.0, I'm going to show you how I load my pack and give you an idea of how many organizational pouches there are. So in the back, you have a nice sleeve where you can put a tablet or an ipad or something like that. In the front, you have two different pockets that you can load with a variety of different equipment that you don't want wandering around your pack. Here I'm putting a couple carabiners, some prusiks, and some webbing so it'll be stored nice and neat and not wander around. There's a second pocket on the top that's perfectly sized to fit a CLUTCH.
The deep bottom of the Palisade pack allows a harness to be put in. I like to lift mine up a little bit and load it all the way to the bottom to make sure it's stuffed in and it gives it some rigidity. I can load a jacket, cold weather, rain gear, anything like that for my mission, and I still have enough room to place a helmet inside. Compression straps on either side of my Palisade pack allow me to snug this down as necessary. And this is the Palisade 2.0.