Rooted in Rescue: A Scout's Honor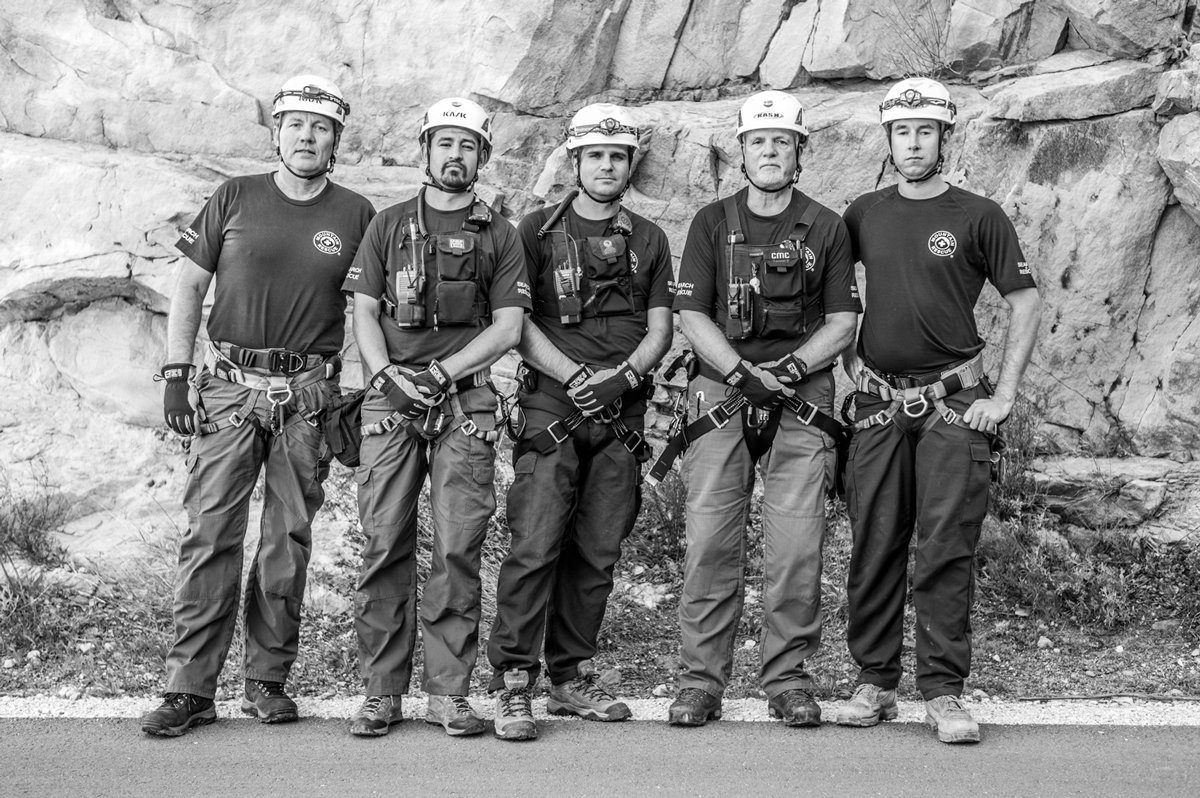 In facing exciting new horizons, grounding ourselves in our foundation as a humble and passion-driven small business provides a solid blueprint for the future. As a company "rooted in rescue," we remain dedicated to the quality and craftsmanship that make our equipment and services the most trusted in the world. But ensuring a relationship of trust with our customers isn't simply a business proposition, it's the core philosophy of our founder, Jim Frank, whose integrity for keeping people safe has remained the very bedrock of our company.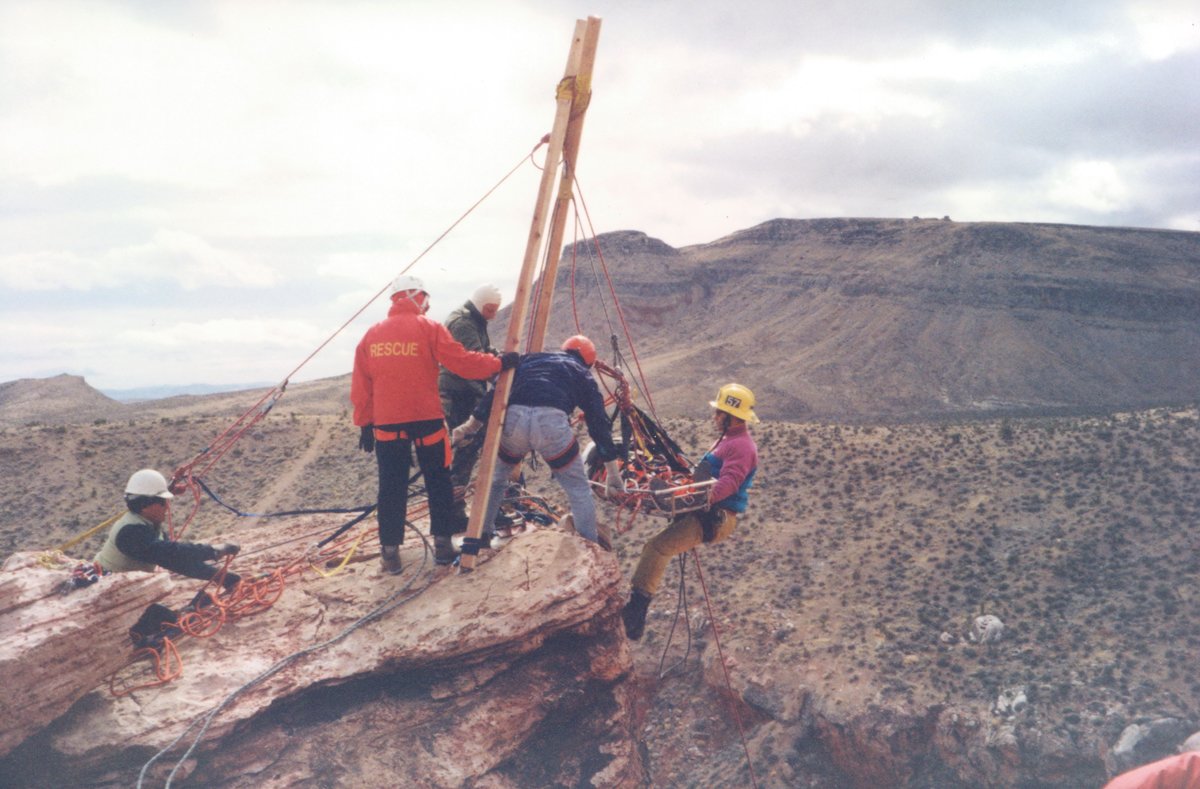 As a young boy, Jim Frank relished the outdoors. Growing up on the central coast of California, the rugged terrain of Santa Barbara's front country provided the backdrop of his early and incessant love of mountain exploration. As he grew older, these local jaunts gave way to summer camp adventures and participation in an active scout troop that focused heavily on wilderness survival skills, camping, navigation, pioneering (rope work) and first aid training and competitions.
Throughout college and after, Jim's passion for the outdoors and exploration continued with more extensive wilderness pursuits like hiking, backpacking, climbing, mountaineering, and even desert racing. It was these early experiences that led him to join the Santa Barbara County Search and Rescue Team (formerly Los Padres Search and Rescue) in 1976, and to eventually found California Mountain Company (now CMC Rescue, Inc.) in 1978.
Not long into his involvement with the SAR team, Jim was told that the use of a Russ Anderson Figure 8 Descender was preferred over a carabiner with a brake bar rack. Such a rescue specific item wasn't available at the local climbing shops and he learned that several of these descenders had to be ordered at a time. Recognizing a sales opportunity, he purchased six Figure 8's with the intention of selling the other five. In addition, he purchased a handful of locking carabiners and lengths of polyester braid-on-braid rope that was replacing Goldline with the mountain rescue teams. These marked the very first instances of Jim's endeavor to establish a business by sourcing equipment for rescue operations.
An early California Mountain Company booth at NorCal near Donner Pass, CA.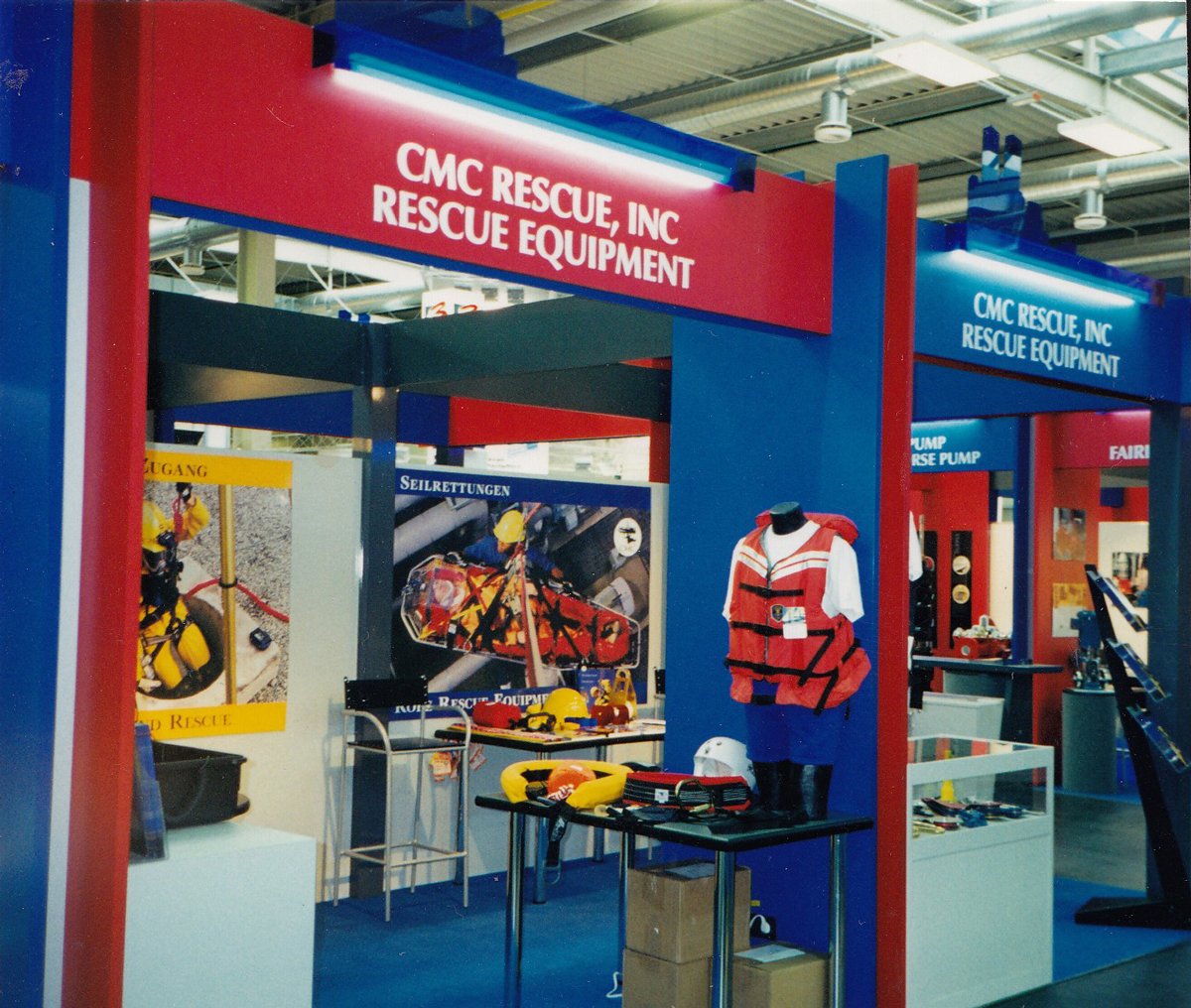 Jim continued to grow his business sourcing specialized rescue equipment for SAR volunteers and fire agencies. Those very early days of California Mountain Company (CMC) Rescue were comprised of just a handful of employees, all of whom were volunteering as Santa Barbara County SAR team members. Jim vividly recalls moments where half of his staff were called out on a rescue, while the other half remained to run the day-to-day business operations.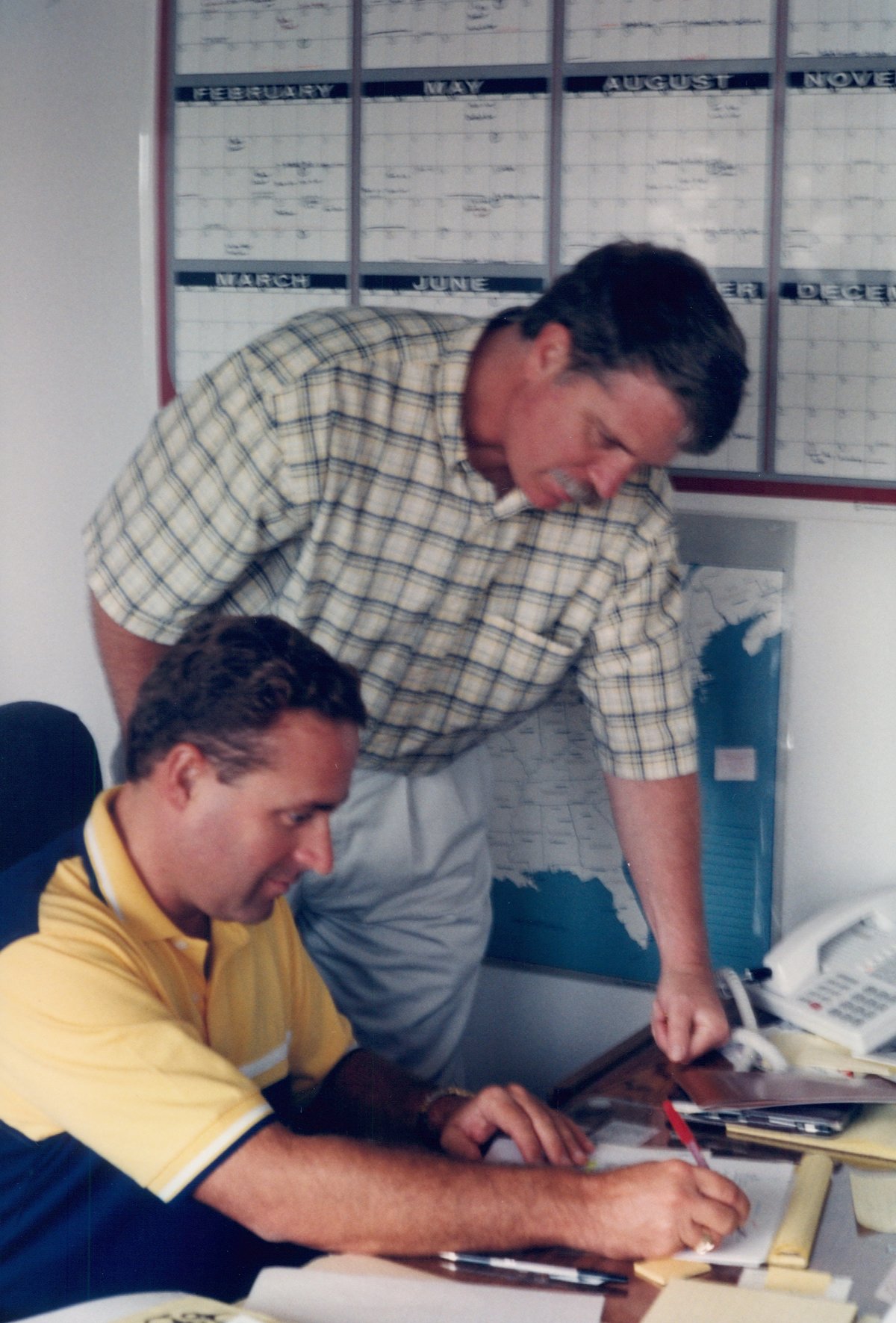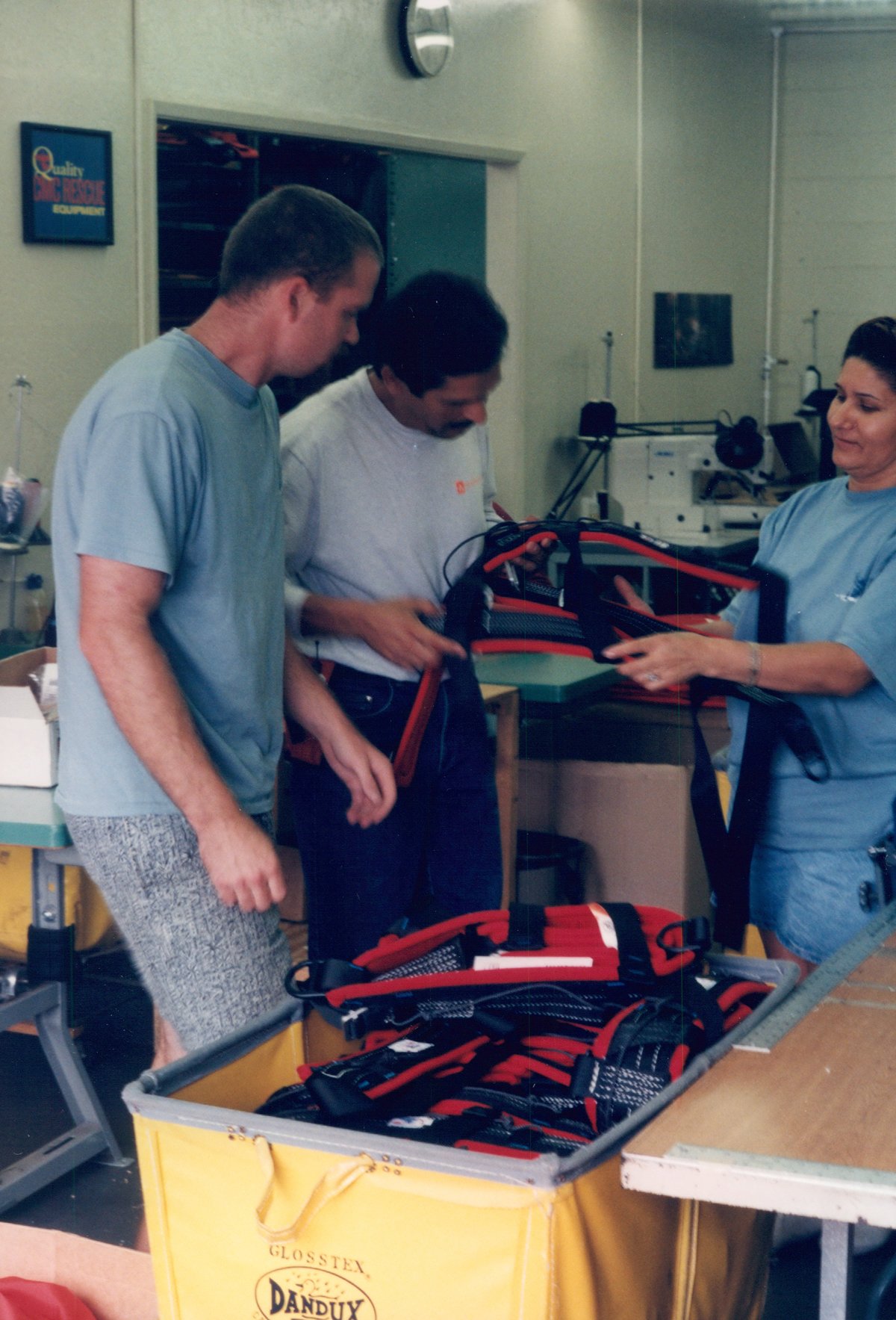 It was the kind of bootstrapping typical of a small town small business, and the rescue expertise that Jim and his employees possessed lay the foundation for another important niche; training. As a member of the Mountain Rescue Association, the Santa Barbara County SAR team's affiliation with the renowned organization meant that they adhered to a professional standard of rescue, and that Jim himself remained cognizant of the latest rescue methodologies. Word spread throughout the rescue community that Jim and California Mountain Company were a one-stop shop for not just equipment, but experienced consultation as well.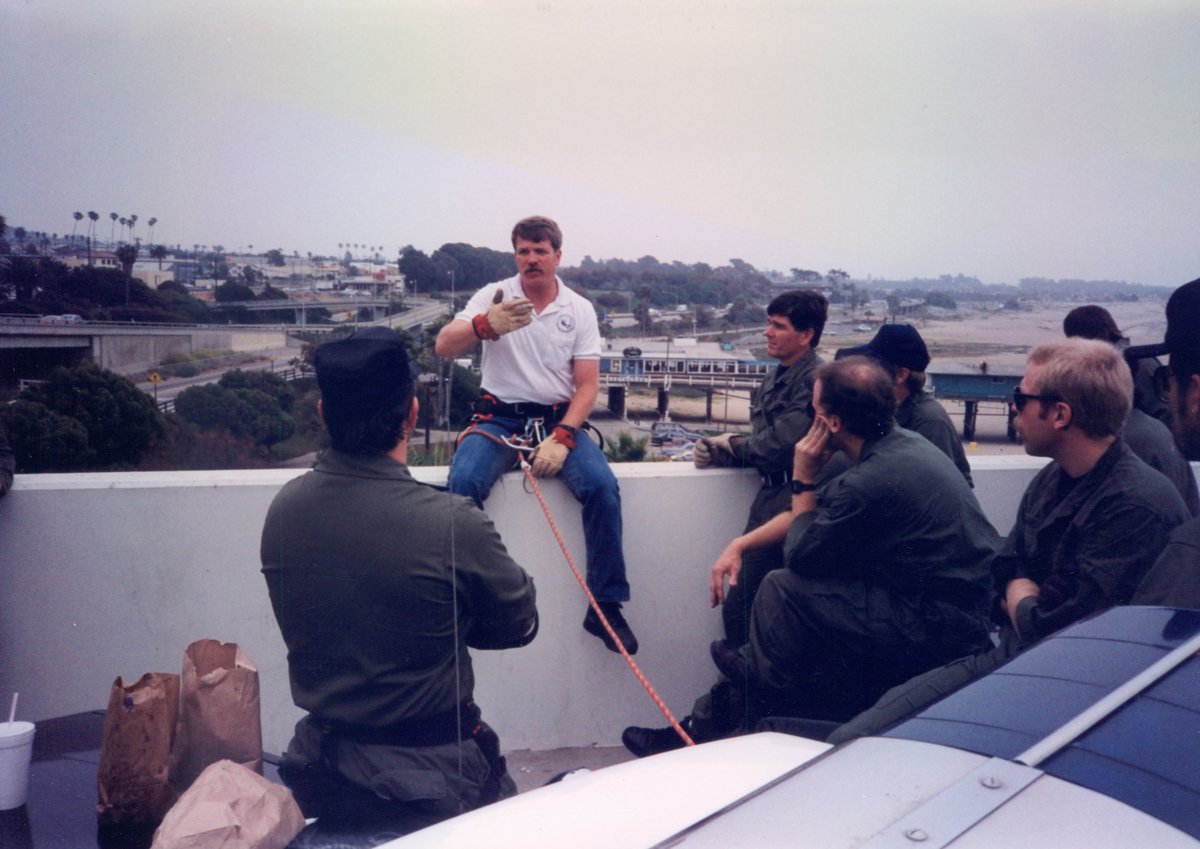 While consulting local fire and rescue agencies about equipment over the phone, Jim and his employees were frequently interrupted by rescue-related calls. Resuming the conversation several hours later, his customers were more eager to hear details and lessons learned from rescue missions than discuss the purchase order at hand. CMC's staff developed the reputation of knowing how the equipment should be used based on real-life field experience. This led to the development of the curriculums for teaching technical rope rescue to the fire service.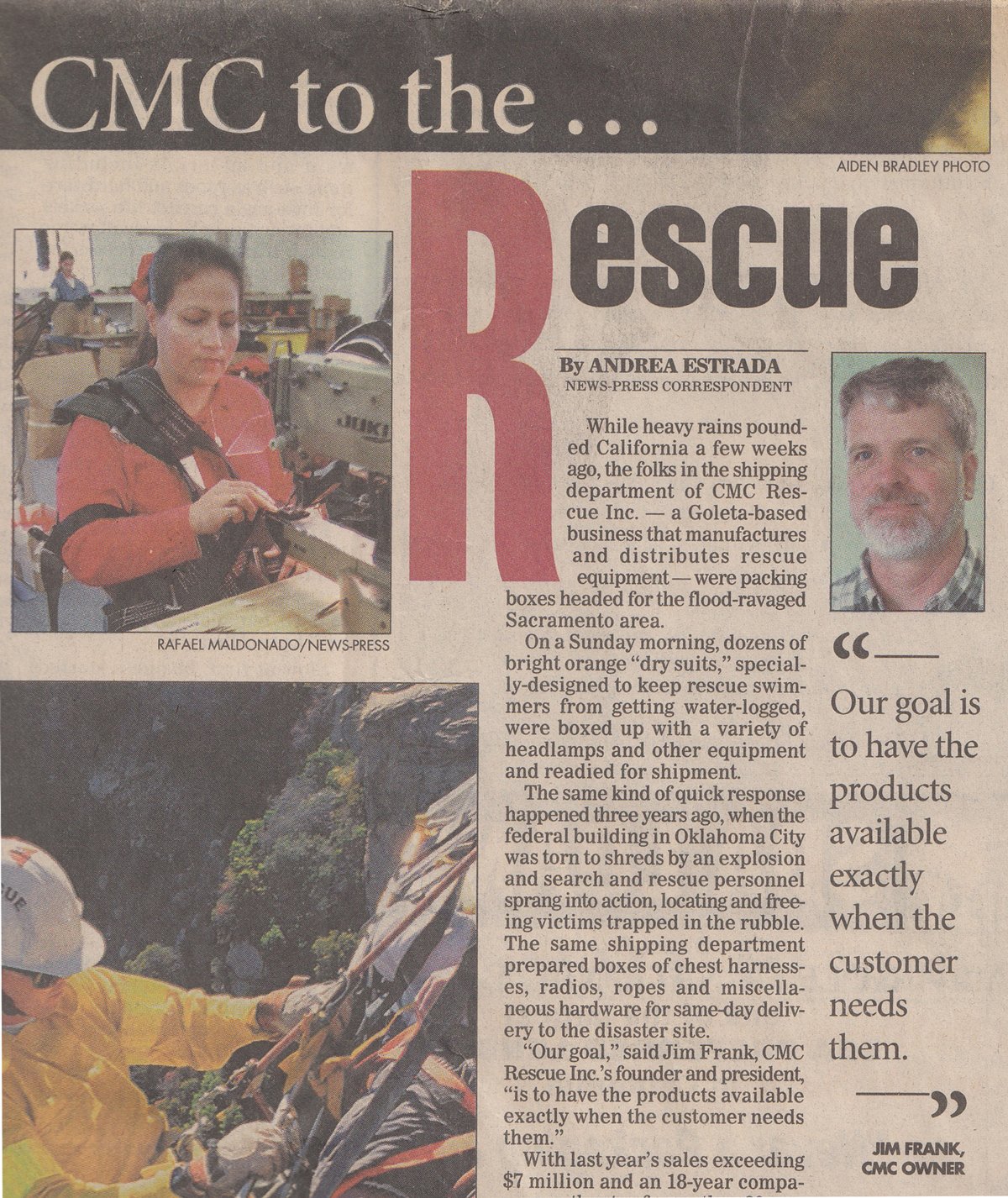 From the beginning, Jim's purpose has always been about keeping people safe and ensuring that rescuers have access to the proper equipment and training to execute successful missions. His intimate knowledge and expertise of both the terrain and the rescue practices combined with his background in engineering provided the distinguished and all-encompassing approach to rescue and life safety equipment that CMC Rescue is known for today.
We are exceptionally proud of our heritage, and continue to hold Jim's philosophy of trust as the highest measurement of our success. The new year will bring many exciting changes for CMC, including an updated brand and online experience, and several new products that combine our knowledge and expertise of hardware manufacturing with more intuitive designs and global applications. Amidst this change, we are more committed than ever to the qualities that make our equipment and services the most trusted in the world. From ordering to operating our gear, or from a CMC class to the field, we aim to continually evolve your experience to ensure a better CMC for you.