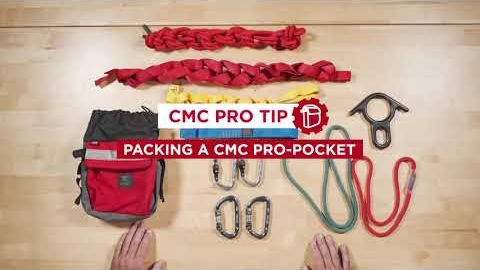 Packing a CMC Pro-Pocket // CMC Pro Tip
This video showcases the CMC Pro-Pocket and provides CMC Pro Tips on how to pack it for versatile problem solving in the field. Think of CMC's Pro-Pocket as your go-to assistant. It's small enough to sit on your hip and large enough to store the tools you need for responding to an incident. The CMC Pro-Pocket allows you to build anchors, rappel, or belay. CMC Pro Tip – make an inventory card so that you have everything you need packed at all times.
**Full Transcript Below**
All students that attend a CMC rope rescue class are issued a Pro Pocket for the duration of the course.
The contents of our Pro Pockets are as follows:
A Figure 8 descender which lives in the outer pouch here.
A 15 foot piece of 8mm cordelette.
A 20 foot length of 1 inch webbing.
A 12 foot length of 1 inch webbing.
A 2 foot utility loop.
1 sewn green prusik.
1 sewn red prusik on the internal pockets.
On the external pockets we have 2 T-rated screw lock carabiners and 2 T-rated manual lock carabiners.