Working High Above Space Shuttle Atlantis: A Once in a Lifetime Opportunity
Click here to view the full gallery!
It was October 3, 1985, one day before my 24th birthday. I vividly remember my fascination with the U.S. Space Shuttle Program and how I watched intently on television the many launches of this majestic "space craft with wings." Remember, I was just a child when Neil Armstrong first set foot on the moon in 1969. Space flight then was rockets, lunar modules, Tang orange drink and space bars for dessert. But in 1985, I watched with the rest of the world the maiden voyage of one of the most complex machines ever built to transport humans to and from space: Space Shuttle Atlantis.
Fast-forward 29 years to October 1, 2014, when I was contacted by a representative of Pro-Bel Enterprises requesting Abseilon USA participate in a project at The Kennedy Space Center at Cape Canaveral in Florida. After reviewing the drawings that were sent, I was stunned to note that our technicians would be working 176 feet above the space shuttle. How surreal! Overwhelmed with excitement, I sat back in my chair and couldn't believe what was about to happen. Working on the Space Shuttle Atlantis project was an once-in-a-lifetime opportunity for Abseilon USA. For me, no words could describe what I felt. Destiny was putting me on a collision course with a lifelong fascination.
After a long flight across the country and a short drive to Cape Canaveral, the rope access team from Abseilon USA followed our security escort down a long, dimly lit tunnel. My heart was pounding with anticipation as the towering gateway doors of the five-story visitors' center slowly unsealed to reveal the behemoth inside. Awestruck, we stood in silence, captivated by the enormous size of Atlantis.
Nose-to-nose with this priceless piece of American history, my destiny was being fulfilled. We walked toward the spacecraft, which was anchored some 30 feet above the ground and angled 43 degrees to one side. The massive bay doors were open and the shuttle's robotic arm extended over our heads as we slowly walked by. The gargantuan size of this spacecraft made it difficult to imagine that something this huge actually flew into space and returned to Earth. As I walked by, I noticed that everyone else on our team was silent; you could have heard a pin drop in this massive building. When I spotted the words "UNITED STATES" and "NASA" emblazoned on the craft, I felt proud to be American, and I am certain the other members of the team felt exactly the same way.
Strategic Planning Process
Team Abseilon USA was tasked with removing a massive sheave-and-frame assembly from an I-beam 176 feet above the space shuttle and then hoisting and installing a new sheave-and-frame assembly back in place on the I-beam. This had to be done in a 10-hour timeframe using extreme care so that nothing— no nuts, bolts, washers, tools, not even a spec of dirt or debris—was dropped. All tools had to be tethered to our CMC Rescue Rigger's Harness and special nets and canvas cloths were used to protect any exposed area above the shuttle.
The strategic planning process launched in October as Team Abseilon USA met daily to formulate a strategy for the oversized sheave-and-frame assembly. For this project, technicians would utilize Vidcie Live Stream Cameras to provide a real-time video stream back to the Abseilon USA support team and capture the work for later review. This way the Abseilon support team in Phoenix could observe in real time what the technicians were seeing as they worked. This innovation eliminated any probable occurrences that might happen while suspended in the work area and allowed the support team to make adjustments to keep the team on track and complete the project safely, accurately and on time.
The Mission
For Team Abseilon the ascent through the winding dark labyrinth of structural catwalks at the Kennedy Space Center felt jokingly equivalent to reaching the summit at Everest. Abseilon's SPRAT Level III Supervisor Rick Dillman shouted commands to "watch your head" as he bent under yet another low-hanging structural steel member. Kask Super Plasma Helmets by CMC with headlamps lit the way toward the summit high above the airship. The amount of gear that Abseilon assembled for this mission was overwhelming: a dozen CMC Rescue Rope Bags loaded with everything from medium and large CMC Rescue Anchor Straps, 1" tubular webbing, 800 feet of CMC Rescue Static-Pro™ Lifeline in red and blue, two CMC Rescue MPDs (Multi-Purpose Devices) and of course the CMC AZTEK ProSeries® System (a jack-of-all-trades rope-and-pulley system packed in a bag) as well as a couple of dozen CMC ProTech™ auto-lock carabiners and a vast array of tools. The team could take no chances by leaving anything behind. The team transported all of this gear to the top level of the catwalks, the launch area for the assembly replacement.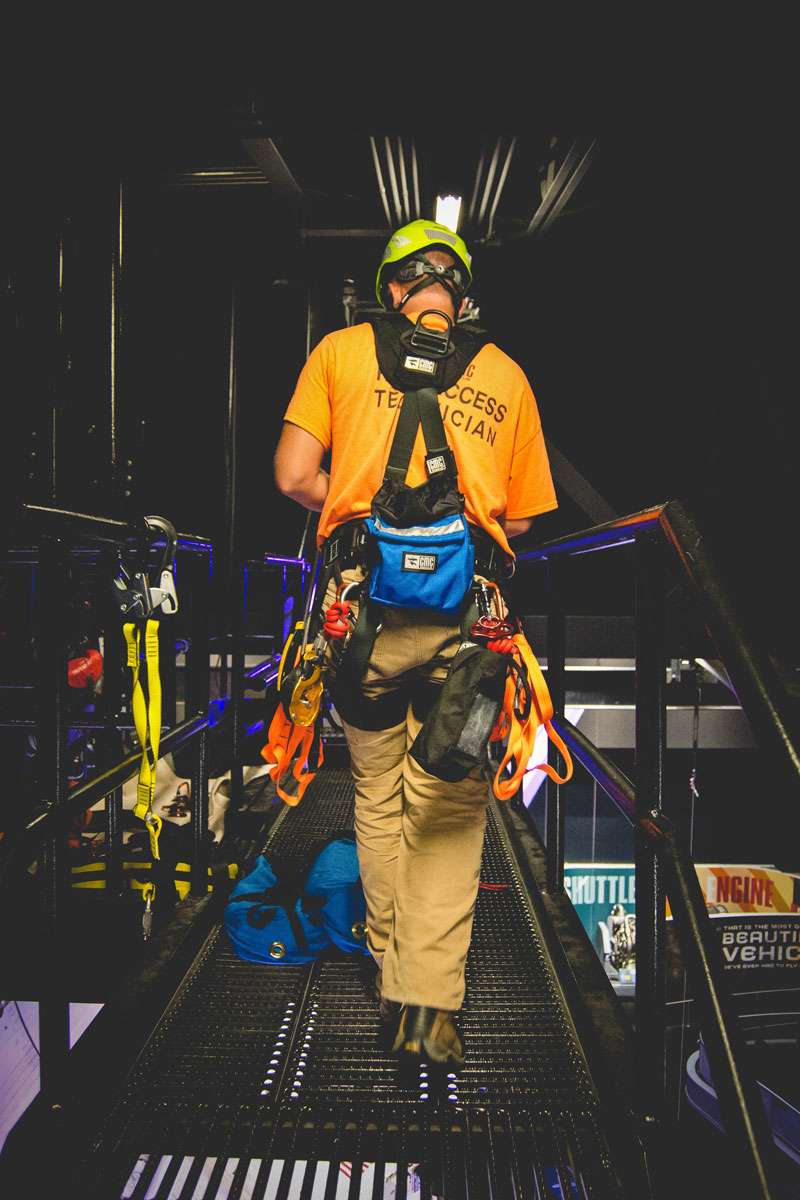 The Intricate Dance
With Shuttle Atlantis situated 17 stories directly below, the team was ready for takeoff on one of the most complex assembly missions yet attempted by our SPRAT Rope Access Technicians. An intricate rope-to-rope dance was about to begin high above a national treasure in order to deliver critical spare parts to a structural I-beam and there was no margin for error.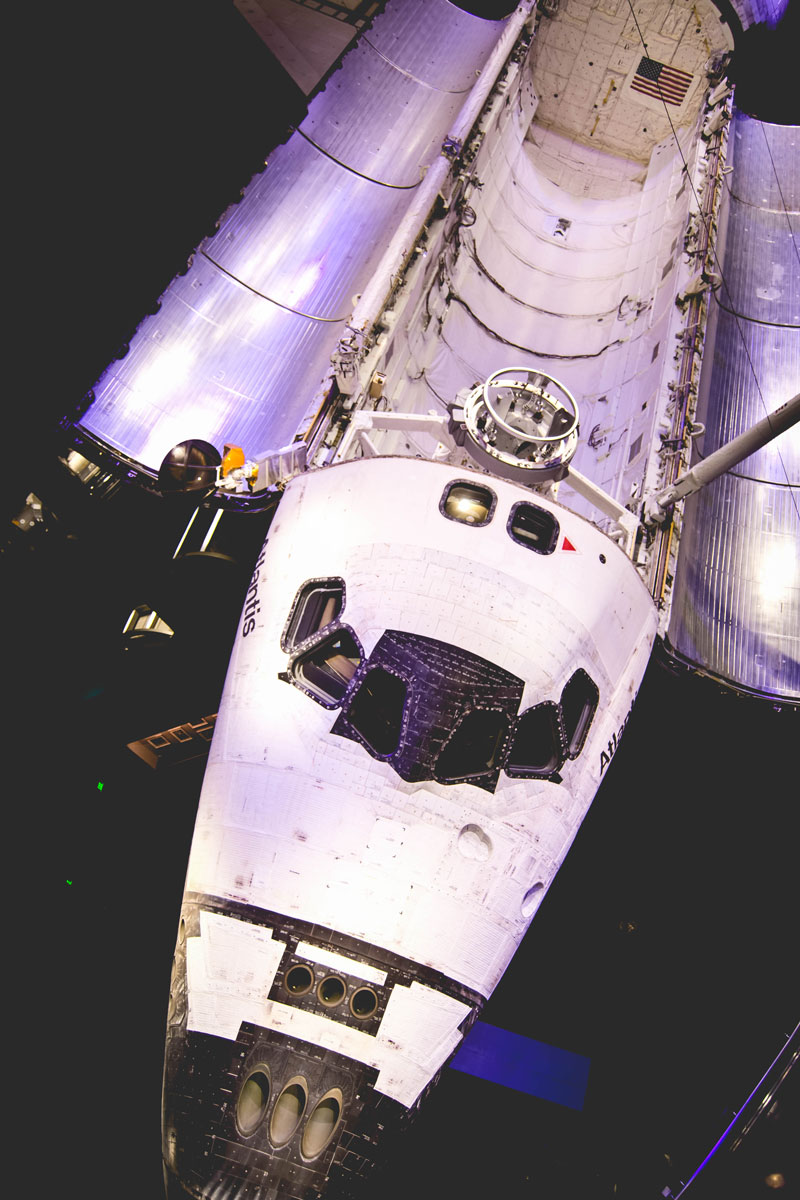 Removal of the original sheave-and-frame assembly required meticulous attention to detail and careful tool and hardware synchronization. There could be no miscalculations between the two technicians; any slipup or misstep would have dire consequences and result in disaster. Complicating the mission was dual-aiding across the structural members in low-light conditions to set all of the rope access anchor straps and rigging for the removal of the sheave-and-frame assembly.
"Nervous?" quipped Dillman as he answered himself. "No way. I trust the equipment I'm using. At Abseilon we are known as innovators in rope access and for our rope access equipment we rely on CMC Rescue equipment. Why is most of our gear made by CMC? Because it's well built and we trust it! So I can keep my mind focused on my job and not what's far below me."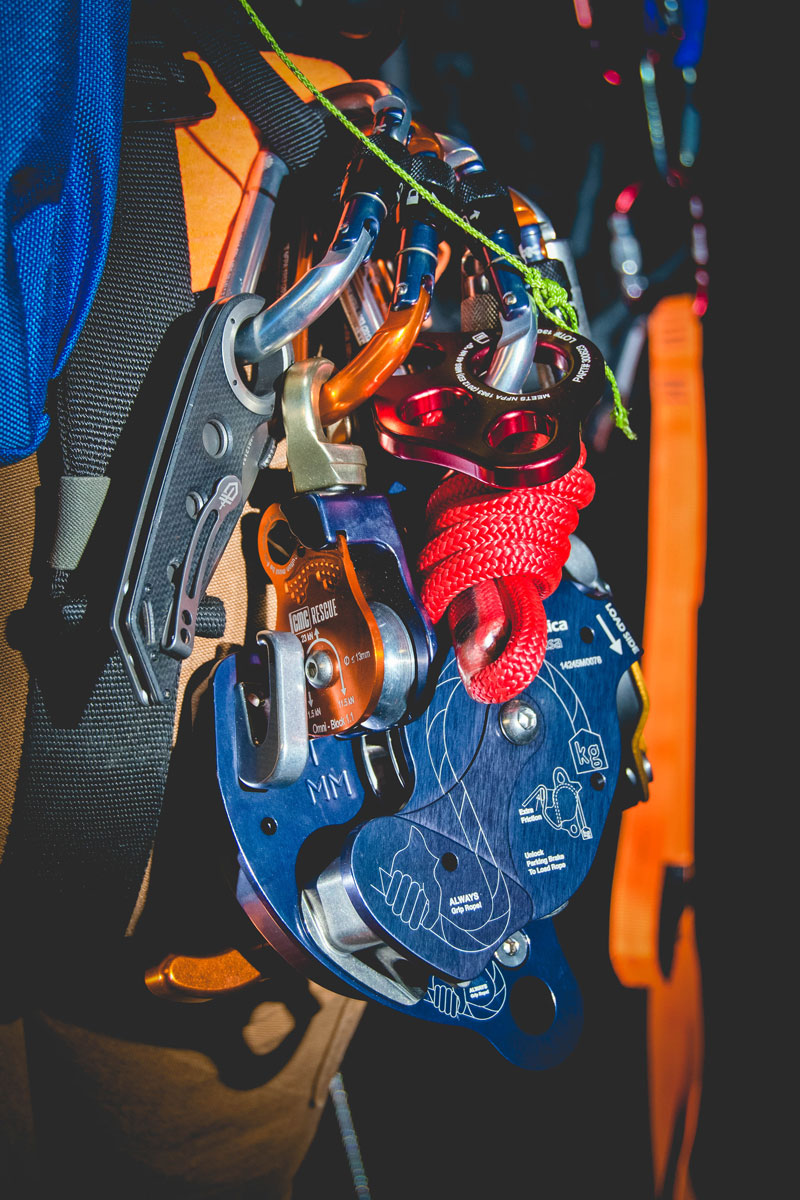 Safety in Space
Set to begin, Team Abseilon checked and re-checked all of its safety precautions, communications with the Vidcie Live Stream system and reviewed the detailed scope of work. Our Rope Access Technicians began the complicated task of installing a safety net directly under the work zone. Once the safety netting was securely in place and procedures checked and re-checked, the crew began removing the primary bolts on the sheave and then removing the existing cable.
Looking down at Atlantis before the first of four primary bolts was removed, Dillman was more than ready. He let the Abseilon support team watching back in Phoenix know that he was ready to go by saying, "lift off." He then created a highpoint with one of the anchor straps and attached a carabiner and an MPD with 11 mm lifeline to lower the immense frame assembly safely down to waiting technicians.
"I keep my mind on my job and not my working height," he said. "Dropping something here is not an option."
The new sheave-and-frame assembly were then hoisted into position on the I-beam. Dillman made this project look easy by seemingly defying gravity and maneuvering in different positions effortlessly in order to secure and inspect the new fasteners.
It came together perfectly. "One small step for Abseilon USA, one giant leap for rope access," Dillman said. Far across the country, the support team was all smiles, too.
Once again, innovation was created by the collaborative efforts of two great partners, CMC Rescue and Abseilon USA. I smiled and felt proud to be American!
—Ken Piposar, Abseilon USA