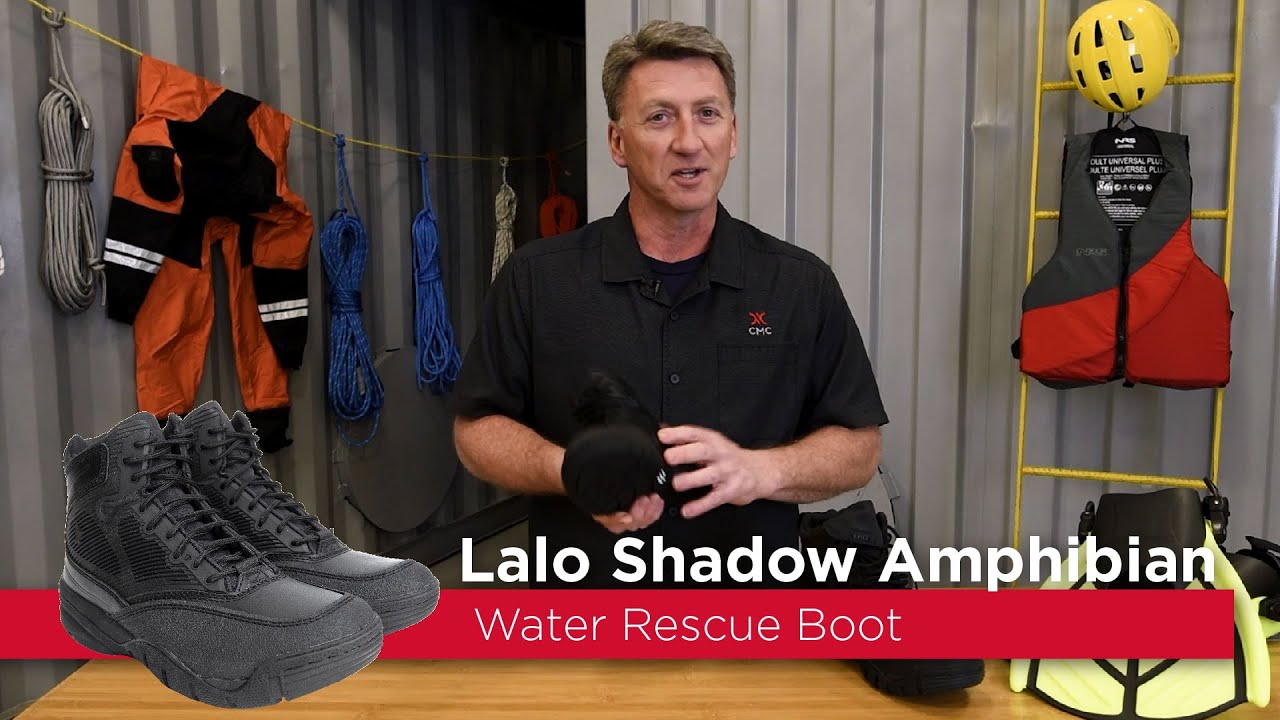 Lalo Shadow Amphibian Water Rescue Boot
In this video, Jim Bolton, CMC Instructor, introduces the Lalo Shadow Amphibian Water Rescue Boot and reviews its key features. This fully featured water rescue boot has outstanding moisture management, lightweight durability, and all-day comfort, traction, and protection. Designed for water rescue professionals in conjunction with the Navy SEALs, the Shadow Amphibian is made for rescuers who want high performance in rugged terrain and fast-flowing waterways. Ideal for working in and around rivers, trudging through mud, and hiking long distances.
**Full Transcript Below**
Hi I'm Jim Bolton, an instructor with CMC, today I'd like to introduce you to the Lalo Shadow Amphibian Water Rescue Boot. This boot was designed with high quality and durability in mind and it has a ton of features that are going to make it an enjoyable boot for you to wear.
I'm going to start at the bottom. First, it has a rubber molded injected sole that is reinforced with a composite plate. That plate is rotationally placed in the boot which is going to afford better comfort and it cuts down on the fatigue you may be experiencing. The other feature it has here is this continuous steel arch. We all know the importance of having good arch support, especially when you're walking around on the shore. It's a really comfortable boot to wear.
As we move here towards the toe, the vamp of the boot is designed with a narrower profile that's able to receive any fin that you're going to be wearing and it locks that fin on there very securely. The toe is also made of leather but over that leather toe is a ceramic overlay material that adds greater abrasion resistance.
As we move down back to the sole, there's these dual direction drainage ports. It's a water rescue boot, you're going to get your feet wet, and that's going to help drain that water from inside. The design of the boot isn't going to prevent water from entering it, but the drainage holes will allow the water to exit the boot.
As we move towards the back, we have an EVA multi-density foam that offers cushion. It also offers a little bit of a spring feature so when you're doing a toe-off in the water, it'll aid with that. As you move across the body of the boot, there's a breathable fabric that's protected by a KPU grill that helps prevent debris from entering the boot. Move around to the back of the boot and we have this nice feature here, it's a fin lock. And what that does is that receives the back of the fin, secures it tight to the heal, makes it a lot better when you're trying to push off in the water.
Moving towards the top of the boot, this is one of my favorite features, it's a really comfortable material. It's a hydrophobic, anti-microbial, water-wicking material, and that material breathes well, is really comfortable, and it's really durable. To top everything off, if you've had the problem I've had in water rescues, where you tie your boot and the hydraulic forces take that and untie your boot, there's a nice little shoelace pocket here at the top.
For more information on this awesome boot, go to the CMC website!