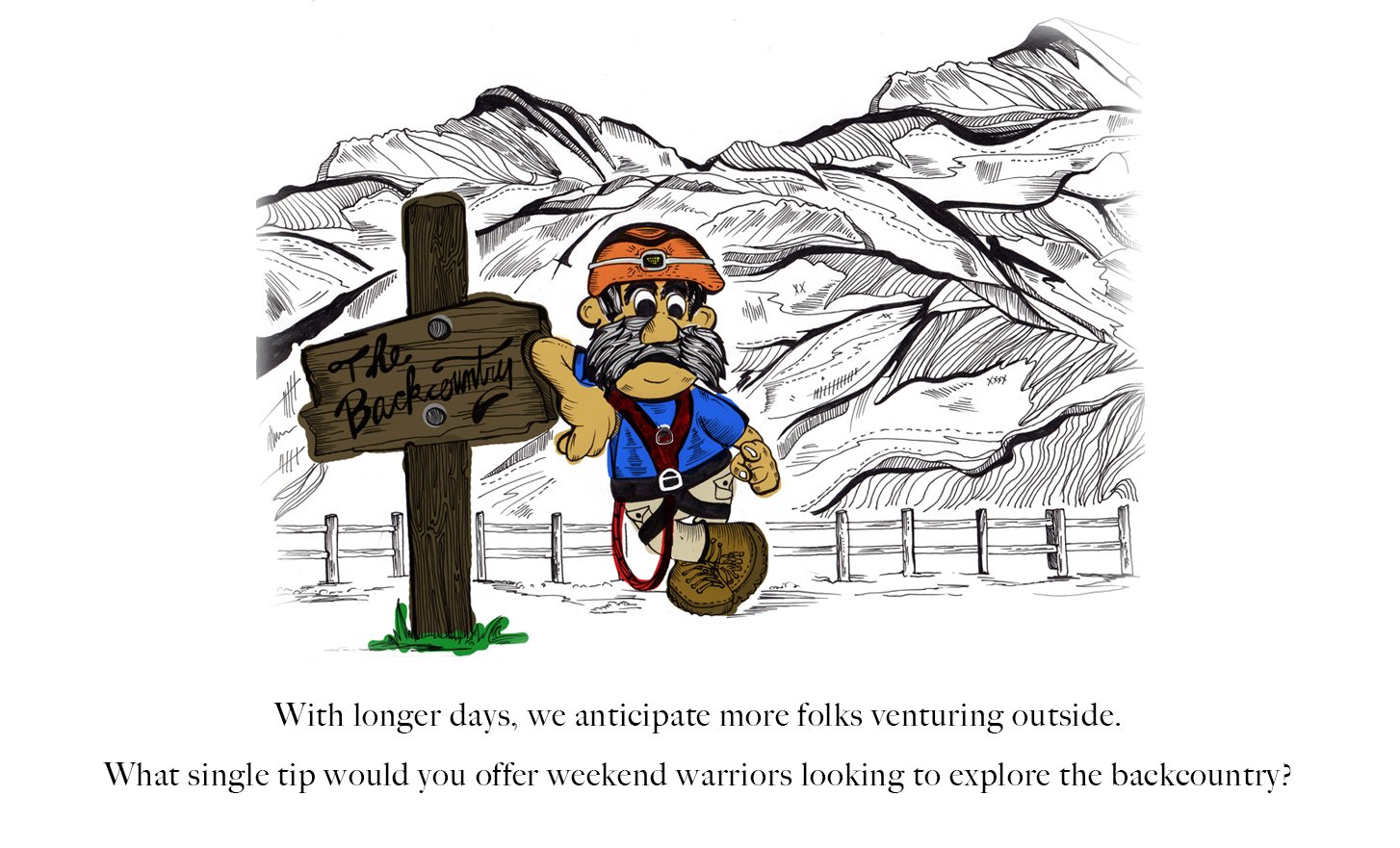 Roger That: Know Before You Go!
He asked, you answered. Here are some great pointers for adventure goers, from rescue professionals like YOU!
Check Your Selfie
Take pictures of everyone in your party. Especially kids. If anyone gets separated or lost we know what they look like and what they are wearing – Dorian H.
Smart Wool
At this time of the year be especially prepared for any weather from hot and sunny to wet and freezing nights and blizzards, with flexible, functional, lightweight layered clothing. And always, always have a spare pair of dry wool socks in your pack, no matter where you go and what you do.
Ernst B.
Mountain Rescue Team Leader
Rocky SAR
It Takes Two to Make a Thing Go Right
Let someone know WHERE you are going and WHEN you expect to return!! Two often forgotten items.
Alan M.
Former Chief, LGFD
Fluid Dynamics
It's all about hydration.  Keeping fluids in your system helps to maintain a healthy awareness to your environment and self.  It is near impossible to pack in water for more than just a few hours of hiking or any kind of exercise.  Losing water causes a loss to ones mental faculties resulting in poor choices, getting lost and missteps.  Any of these can change a simple outing to prolonged misery.  Learn the environment ahead of time and learn how to find water.  Planning hydration is a critical part of planning your trip regardless of how short it may be.  It is essential to all plants and animals, including us curious humans.
Ken J.
Lieutenant, Gainesville Fire Rescue
Gainesville, Florida
Partners in Time
For anyone planning a backcountry trip, my single tip would have to be set an itinerary with hard times, and an accountability partner that can alert if you don't check in on time. That both speeds up definitive help if you need it, and at the same time gives peace of mind to anyone who knows you're out there. – Troy
Pack It Up, Pack It In
Expect anything and be prepared. Having supplies/equipment with you for unexpected weather, becoming lost or injured can be disastrous if you're not equipped with the basic supplies. Maps, compass or gps, food, water and a method of shelter. The proper footwear is a must, leave the tennis shoes at home, think traction and ankle support. This is good information whether we are in the Rockies or Appalachians.
Mike B.
Retired Firefighter in Kentucky
Knowing is Half the Battle
Test all equipment, "never go into battle with an unproven weapon." Be familiar of with the uses & abilities to avoid incidents, and please require and request the same from your companions.
Phil L.
Fire Service Instructor, Nebraska
Can You Hear Me Now?
Charge your phone. – Clifford O.
Got something to add? We'd love to hear it. Post your answer in the comments!