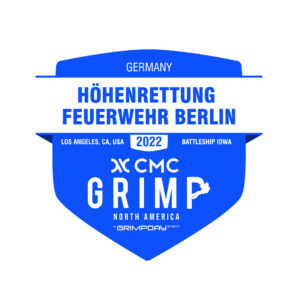 About the Team 
Types of Rescue represented in your team:  
Professional urban rescue , confided space , outdoor and nature rescue services,  technical rescue,   Special forces of the Feuerwehr Berlin ( Fire brigade of the State of Berlin) ; Paramedic trained
Combined years of experience:  
Each member between 10 and 20 years  
Why are you participating in GRIMP North America?  
As a team we look for challenges and new experiences and are honored and proud being part of GRIMP North America , representing the State of Berlin Fire Brigade. Our extensive professional experience in the field of high rescue and continuous success in competitions in Europe  makes us a worthy competitor    
Anything unique or interesting about your team that you would like to share?  
As only team ever, we have won three times GRIMP Day Namur , Belgium we're the  most successful team in Europe and one of the best teams among  Germany's Fire brigades