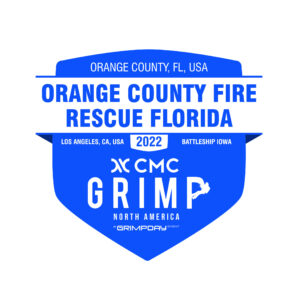 About the Team 
Orange County Fire Rescue Florida, Rescue Climbers was founded in 2015 in response to the ever growing theme park industry in Central FL and the unique obstacles that it presents. The history of rope rescue in OCFR goes back further then that with the formation of our first Squad Company in 1989. Rescue Climbers are an elite group within OCFR comprising of 60 members from a pool of over 400 rope technicians spread across our Truck and Squad Companies. 
Team members are chosen though a rigorous testing process including physical, written, and practical exams. First they must climb 400ft on a ladder mill in under 10min then immediately step off and tie 12 designated knots in under 5mins. Then there is a pickoff, ascending, and anchoring station; all timed and members are asked technical questions throughout. The top candidates are then invited to the Orlando Eye (a 400ft observation) for a timed confidence climb around the whole structure.       
Rescue Climbers main objective is the rescue of persons on theme park rides and other unique structures in Central Florida. This includes Sea World, Orlando Eye observation wheel (7th tallest in the world), the world's tallest swing ride, drop tower, and sling shot. OCFR also works closely with other Fire Departments within Orange County that cover Universal Studios and Disney World. 
Rescue Climbers are not just NFPA rope rescue technicians they have additional training in confined space, tower rescue, industrial fall protection, arborist rescue, and SPRAT. All team members are at least Level 1 SPRAT, with 1 Level 2 and 2 Level 3's. Members also keep up their skills by taking classes outside of Central FL including: Advance Confined Space USS North Carolina, Ronan Rescue the Rescuer, Advanced AHDs, and many others. OCFR has also hosted training for other departments including Los Vegas, FDNY, and London. The Rescue Climber team's goal is to take aspects of different rope disciplines and use them to be a more effective rescuer; putting the focus on individual skills and small team dynamics.  
We are very excited to participate in GRIMP North America and be given the opportunity to put our skills and training to the test. As a team we are always looking for new challenges and learning opportunities. We look forward to meeting teams from all over the world and the ideas that we can share with one another. Also to be able to perform these rescues on historical Battleship presents an exciting opportunity. 
Follow them on Social: