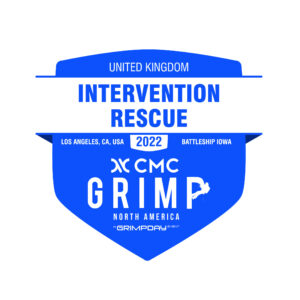 About the Team 
Where are your team members from (which city/country do they represent):  
UK – nationally  
Types of Rescue represented in your team:  
Fire & Rescue Service  
Technical Rescue USAR Confined Space  
Police  
Experienced Industrial Rope Access Technicians  
Commercial Height Safety & Rescue Training  
Combined years of experience:  
Approx. 100 years  
Why are you participating in GRIMP North America?  
"Setting the Standard".
A Chief Fire Officer once told me "A standard you walk past is a standard you accept, and a Standard you accept is a standard you own."
At Intervention Rescue we believe that we all set our own professional standards; and that they are far-reaching and ever-evolving through learning, information sharing and innovation. In rescue, they ultimately revolve around three main elements safety, efficiency, and effectiveness.
A true rescue professional will forever be in the pursuance of the highest standards of excellence and the attainment of skills to reduce suffering and save lives.
Grimp embodies our DNA and to us, it represents professional rescue excellence in the highest order. A rescue challenge that from its origins was designed to bring together the world's specialist rescue teams to participate in the spectacular large-scale real-world environments and realistic scenarios that the challenge can offer, providing an arena for elite rope rescue operators from across the globe, to test their skills as well as stimulate the development of higher standards of proficiency.
The intention is to accelerate the natural learning curve of rescue teams to meet the demands made by modern rope rescue emergencies. By allowing rope rescue practitioners to meet, exchange and share knowledge, develop skills, and stimulate ingenuity, the teams will achieve a higher level of professionalism to the advantage of those in the communities we serve.  
Having participated in 3 GRIMP events previously we are looking forward to the new challenges and friends that we will encounter and make at GRIMP NA.  
Anything unique or interesting about your team that you would like to share?  
We all first met working as part of the rescue team for one of London's most popular tourist attractions – The London Eye.  
Our mix of backgrounds, from fire service, police, military – one of our team members is ex British special forces – and technical access technicians means that we have a unique skillset, allowing us to draw from a broad range of real life experiences in any rescue challenge we take part in. 
Follow them on Social: