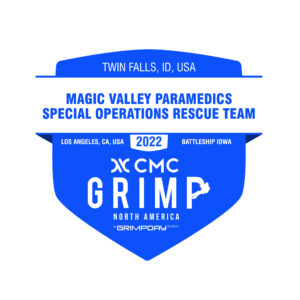 About the Team 
Where are your team members from (which city/country do they represent):
All team members currently live/work in Twin Falls, ID,  USA. Adam originally from London.
Types of Rescue represented in your team:
We primarily do high angle canyon rescues, some mountain rescues, and occasionally a confined space rescue. We have a very large canyon and the only bridge that is legal to BASE jump off year round in our area so that keep us busy.  
Combined years of experience:
We are a baby team. We have approximately 50 years combined experience.  
Why are you participating in GRIMP North America?
We are competing in GRIMP North America to learn! We would love to learn from other teams and experts in the industry to take new things home to our teams to make us better rescue techs for our patients we will serve. We also hope we can share some of our experiences and lessons learned from all of the rescues we have been able to do, some of them high profile ones like the truck having off the Malad Gorge.   
Anything unique or interesting about your team that you would like to share?
Our team is very different then most traditional teams. We are not assosiated with a Fire Department or normal search and rescue team. We are a hospital based rescue team staffed by a bunch of EMTs, paramedics, and critical care paramedics. A unique feature about our team is that we take advanced high-level care to the victim, instead of waiting for a victim to be rescued and then given advanced medical care including whole blood, chest tubes, and other advanced procedures a patient may need. 
Follow them on Social: